Just before my birthday last year, as my parkinson's drug-withdrawal was reaching its middle-point and I was beginning to realise that NewNeuro was right and that almost none of my symptoms were improving and some things were worsening to reveal the true state of me, as he had predicted, I noticed my hands and how bare and uninteresting they were.
I am lucky to have two of them that both work pretty well but, like me, they have become older and larger.  When I was working I took care of them and even got the occasional manicure.  Having slim hands with long-fingers was, if I confess it now, one of my secret "likes" about my physical self… is it wrong to admit it?!
So… August 2015 and "long and slim", well slim anyway, has been consigned to history, my nails are unadorned, the hands beginning to show their age and my thoughts turn to nail polish.  Thanks to tremor I haven't been able to do more than blob toe-nails for years, so I would have to consider going to a salon but first would need to update myself on the world of nails.
I browsed the internet and discovered that there is a remarkable nail polish that is virtually indestructible – it is called gel polish and it is cured/dried using UV light.  That sounded exactly the sort of thing I needed as, having become clumsy and often bashing into things, normal polish would be wrecked in days.  The range of colours looked fabulous and fun.
On my next sortie to collect a prescription I passed a local beauty salon and… I decided to find out if they "do" gel nails.  Of course they do, so I made an appointment as a birthday treat-to-me and, not yet being overly courageous on this first nail adventure, I chose a classic bubble-pink colour, with ring fingers highlighted with some glitter.  When I looked at the end result, I remember feeling incredibly daring, while inside giggling like a kid, and being simply thrilled with the whole process.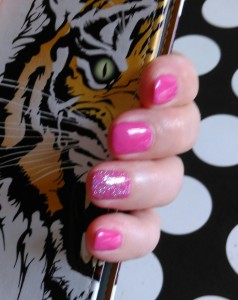 Because the gel is instantly hardened in 30 seconds under a UV light, the nails are good-to-go immediately they are finished – although, like many familiar with traditional polish, it takes a few sessions to program this new freedom-from-nail-protecting into one's brain!
To have such beautiful-looking nails made a huge difference to how I felt about myself, so I decided to continue to have them done regularly (about every two weeks as my nails grow quite quickly).  I have deliberately gone out of my way not to repeat, twice in a row, the same colour.  In fact, I have only twice repeated a colour at all!  What is also brilliant is that before gel nails, my nails had begun to curl slightly, but the gel polish keeps them beautifully straight, so when I now look at my hands, my nails, if nothing else, are as they were when I was decades younger!  It's such a joy!
My sense of fun, which is usually not far from the surface, truly bubbles on nail days!  The night before I browse the internet for the latest colours and, based on whimsy alone, decide which colour might be next in line.  On the day, the salon may well have additional colours, so as I always book the same super-competent beauty therapist, who has come to realise that I am a bit of a nut, outward appearances notwithstanding, we agree my new colourscheme!
I don't often go out these days, but when I do venture out during these cold(er) months, bundled up and far from glamorous, I have such fun taking people by surprise when I remove my gloves and my crazy nails are revealed!
SO…. I have resolved that I should keep at least a visual record of my nail adventures from now on, and here it is: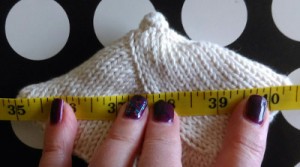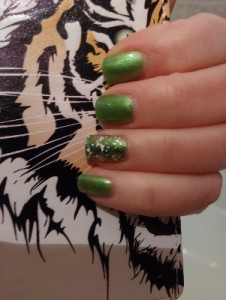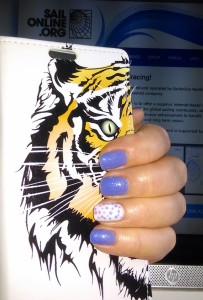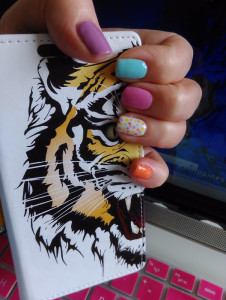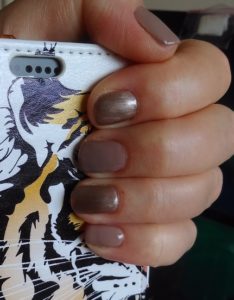 If you haven't yet visited my website, please do so.
@oannekarma
#RCtheParrot